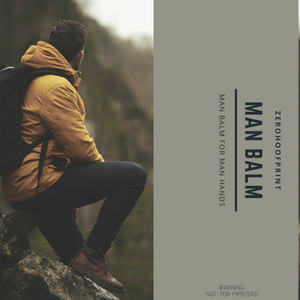 ZeroHoofPrint
Man Balm
Sale price Price $13.95 Regular price $13.95
Man Balm. Matt black, expedition pack, Man Balm,  that is light weight, yet packed full of hardcore hand repair.
Hand care for men, made by men.. This awesome heavy duty Man Balm is designed to protect and repair your hands. How do I know it's awesome? I know, because I fucking made it, I use it, it's awesome and if I didn't think it was awesome, I wouldn't sell it. If you don't think awesome too and simply the best Man Balm out there, then I'll give you your money back and you can keep the product.
Made in Tasmania using organic bees wax, coconut oil, olive oil and our two secret ingredients orange and cedar wood... 
This smells amazing, women love it.
Conveniently packed in a matt black, alloy 20gm screw case, easy to carry, compact, take anywhere expedition size.
Made from Australian grown ingredients, made in Australia by Australians.
Discovered and perfected on the farm, this hand repair cream is perfect for dry or cracked hands, fingers.
Made for men... Warning: NOT for hipsters..